May 1, 2012
March 2, 2012
Benny, what are you doing over there?
Oh, you just can't stop keeping an eye on Tommy..!
July 25, 2011
Stuart and Alexander
I re-uploaded part 4,  5,  6 of this movie.
July 24, 2011
"Stuart : A Life Backwards" (3/6)
I've uploaded this movie for everyone who doesn't want to go to trouble to play the DVD..!!
It's a DVD quality video..!
June 3, 2011
Thursday, Convict Curry Day…!!
This is my second try. Wish me  good luck…!
May 18, 2011
It's been a while since I last posted this photo.
So.
"Hello, Stuart….!  I'm never forgetting you.."
April 19, 2011
B
What's fascinating about "Stuart" dvd is that it contains an interview where Tom is talking, laughing, self analyzing, flirting with Benedict Cumberbatch for entire "30 minutes"…!!  Hallelujah…!!
Tom is so sincere, explicit, funny, adorable in everyway.
And his voice, accent and gesture….Wow!
Isn't this too much with me trying to look very objective at work this early in the morning?
April 9, 2011
Tom Hardy having some seriously funny wig problem here… :))
April 6, 2011
Fuuuuuuuck…!  I want a T.R.A.I.L.E.R….!!
March 22, 2011
< Quiz at Coffee Break >
Can you tell what he's saying…?
March 7, 2011
Convict Curry recipe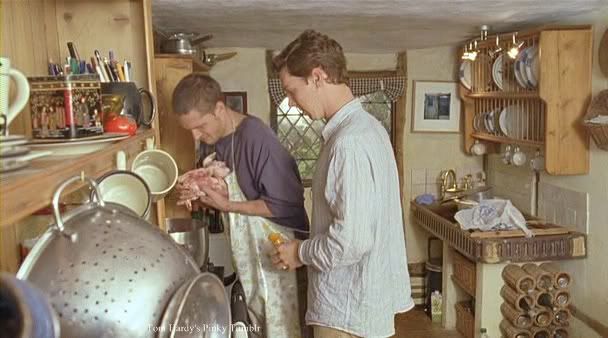 theworldismyoster:
Convict Curry recipe

To feed four

7 x economy chicken quarters ('There's always someone what won't want two.')

4 x onions.

1 x jar of curry paste, 'whatever sort they've got'.

2 x 'cheap and cheering' tins of tomatoes - Aldi, Sainsbury's or Tesco.

Mushrooms, sweetcorn, 'anything like that'. 

Mixed spice

Ground cumin

Fry the onions and the jar of curry paste together 'until you feel satisfied'. Throw in your two tins of tomatoes, mushrooms, sweetcorn and chicken. Rinse out the curry jar and add the water, sprinkle in the mixed spice and cumin, stir, bring to a splattering boil and simmer for two and a half hours.

Source: Stuart: A Life Backwards by Alexander Masters

"Thanks, Pearl…!!

And thanks so much for your recipe, Vy..! You're the first..!!"
(Source: theworldismyoysterrr)
March 6, 2011
That's what I do when my BF cook for me, hehe….
By the way, would anyone of you post that "Convict Curry Recipe" or send it to me, please? I really wanna try that myself.. :)))
March 3, 2011
Isn't it great to cook for someone you love?
Especially when it's "Convict Curry"…
By the way, has anyone of you tried this food?
February 25, 2011
Here's a question.
Which movie of Tom would you bring with you if you were supposed to be stuck on an island for weeks?
You know my choice is "Stuart"  What's yours?
February 24, 2011
My Favorite Scenes of Tom Hardy Movies (17/23) : "Stuart : A Life Backwards (2007)"
"The "Mushroom!" Scene"
This is so heart breaking and Tom, how can you perform like that?
What can I say? I love every single scene of this movie!
The scene where Max shows, Mushroom scene, Convict curry scene, Walking together scene, The Court scene, The Puppies scene, The Scream scene, 'One thing only' scene…every single scene is precious!
What's your favorite? Is there any?