March 2, 2012
Benny, what are you doing over there?
Oh, you just can't stop keeping an eye on Tommy..!
November 25, 2011
I've edited all scenes featuring Ricki Tarr from all the clips till now.
1. My life in your hand
2. The Scalp hunters
3. Begin to move
4. Ricki Tarr and Guillam fight
September 19, 2011
Ricki Tarr and Peter Guillam
September 14, 2011
Tom Hardy signing at "Tinker Tailor Soldier Spy" UK premiere.
With Pnut and Benedict Cumberbatch
September 14, 2011
"POLYANDROUS"
This is  so  P.O.L.Y.A.N.D.R.O.U.S…!  :))
September 14, 2011
Ricki Tarr vs Peter Guillam in HQ…!
You can see  Ricki "bleeding"…!
September 11, 2011
Ricki Tarr vs Peter Guillam
(Tinker Tailor Soldier Spy)
June 3, 2011
Thursday, Convict Curry Day…!!
This is my second try. Wish me  good luck…!
April 19, 2011
B
What's fascinating about "Stuart" dvd is that it contains an interview where Tom is talking, laughing, self analyzing, flirting with Benedict Cumberbatch for entire "30 minutes"…!!  Hallelujah…!!
Tom is so sincere, explicit, funny, adorable in everyway.
And his voice, accent and gesture….Wow!
Isn't this too much with me trying to look very objective at work this early in the morning?
March 7, 2011
Convict Curry recipe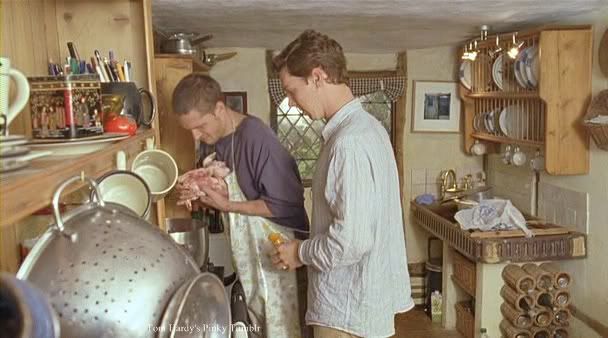 theworldismyoster:
Convict Curry recipe

To feed four

7 x economy chicken quarters ('There's always someone what won't want two.')

4 x onions.

1 x jar of curry paste, 'whatever sort they've got'.

2 x 'cheap and cheering' tins of tomatoes - Aldi, Sainsbury's or Tesco.

Mushrooms, sweetcorn, 'anything like that'. 

Mixed spice

Ground cumin

Fry the onions and the jar of curry paste together 'until you feel satisfied'. Throw in your two tins of tomatoes, mushrooms, sweetcorn and chicken. Rinse out the curry jar and add the water, sprinkle in the mixed spice and cumin, stir, bring to a splattering boil and simmer for two and a half hours.

Source: Stuart: A Life Backwards by Alexander Masters

"Thanks, Pearl…!!

And thanks so much for your recipe, Vy..! You're the first..!!"
(Source: theworldismyoysterrr)
March 3, 2011
Isn't it great to cook for someone you love?
Especially when it's "Convict Curry"…
By the way, has anyone of you tried this food?
February 24, 2011
My Favorite Scenes of Tom Hardy Movies (17/23) : "Stuart : A Life Backwards (2007)"
"The "Mushroom!" Scene"
This is so heart breaking and Tom, how can you perform like that?
What can I say? I love every single scene of this movie!
The scene where Max shows, Mushroom scene, Convict curry scene, Walking together scene, The Court scene, The Puppies scene, The Scream scene, 'One thing only' scene…every single scene is precious!
What's your favorite? Is there any?
January 15, 2011
Oldie but Goodie : Tom, Benedict and Max
December 10, 2010
Precious Forever…
December 7, 2010
Not a Tom Hardy Post…!
Benedict Cumberbatch alone.
I'm now testing dashboard. F**K…!